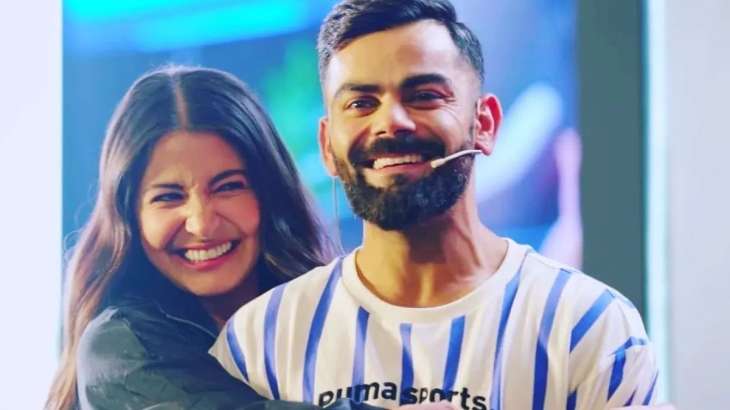 Anushka Sharma and Virat Kohli often shell out couple goals! The adorable chemistry between the duo is been a buzzing topic among social media users. Recently, they were seen pulling each other's legs as they participated in a promotional campaign for a sportswear brand in Bengaluru. A video has surfaced on social media in which the 'Zero' actress copied Virat's aggressive reaction on the ground as his way of celebration. While Anushka and Virat opened up about each other with all honesty, there were certain portions of the interview that are now going viral. In one of the segments, Virat had to guess Anushka's film dialogue. 
At an event organised by Puma, the host asked Anushka to recite one of her most famous dialogues and requested Virat to repeat the line. Instead of repeating the line, he finished the scene with the next dialogue which left Anushka surprised. She hugged him and kissed his hand and said, "Mujhe aisi feeling aayi jaise mereko propose kar dia ho. (I feel like he just proposed to me.)"
Anushka said one of the lines from Band Baaja Baaraat and Virat finished it up with the 'bread pakoda' line. "Pyaar vyaapar ki jodi kabhi nahin baithti. Na bhaiya, main toh single hi best," Anushka said. and Virat added, "Business kar le mere saath. Bread pakode ki kasam, kabhi dhokha nahin dunga." With this, Kohli surprised one and all.
The couple, fondly known as Virushka by fans, was also asked to pretend that they were on field. Anushka pretended to be a part of the opponent team, standing behind the stumps. Meanwhile, Virat positioned himself as the batsman. As the fake ball was thrown, Anushka yelled, "Virat, Virat, Virat, today is 24th April, aaj toh run bana le." Anushka's comment was a dig at Virat's famous 23 April curse of his IPL career. After saying the dialogue, Anushka hugged Virat adorably.
And Virat's comeback will leave you in splits. "Acha, comeback to dene do," Virat said, when Anushka tried to stop him by giving him a hug. "Abbe, jitne tumhare puri team ne April, May, June, July mein nahi banaye, uthne match hai mere. Samjhe?" To this, Anushka said, "Ab se main iski team mein."
In a video, the actress also copied Virat's aggressive reaction on the ground as his way of celebration. Reacting to this, Virat shared that his expressions come out in the moment and said, 'badi sharam aati hai baad me.' "Dekho, yeh sab cheezein hoti hai moment mein. Yeh baar-baar chala ke aisa mat kara karo, yaar. Mere ko badi sharam aati hai baad mein," Virat mentioned.
ALSO READ: Ranveer Singh, Vicky Kaushal, Sara Ali Khan to Kartik Aaryan: Celebs shower love on MS Dhoni's CSK